Welcome to Eureka DIY Solutions
If you're a DIY enthusiast, contractor, an existing stockist, or a potential new stockist looking for tips and information about our products and our company, you've come to the right place.
Founded in 1985, Eureka pre-packed fasteners started off as a sideline business. As more and more people started asking for pre-packed fasteners, as opposed to loose stock, it became clear that there was a great demand.
We started off out of a garage and used old ice-cream vans to drive from store to store to sell and deliver our products in one shot. The business grew fast and Eureka soon became big enough to justify office space with a warehouse. 
In 1990 we added drill bits to the mix as we saw 90% of all fasteners used needed a hole.
In 1995 we added Fort Knox pad locks, door locks and door handles to our portfolio as it fitted in well with our business model and there was a great opportunity in the market at the time.
Our latest TV infomercials
Informative articles and DIY projects
Our ever growing collection of informative articles provides you with everything you need to know about our wide range of screws, nails, rivets, nuts and bolts, and even drill bits.
If you're looking for ideas for your next DIY project, then head over to our DIY Projects section where you'll find projects from fellow Eureka fans, as well as ones done by ourselves.
Product range and Fastener Finder App
Eureka DIY Solutions have over 2000+ pre-packed products and is represented in over 90% of hardware stores in Southern Africa, translating to over 2 000 retailers that we've helped to greatly increase sales and profit per m2 on fasteners.
Finding the right fastener for the job can drive one nuts! So, if you want to hit the nail on the head with your future projects, be sure to use our NEW Fastener Finder web app!
Fastener Finder App (coming soon)
Get it Done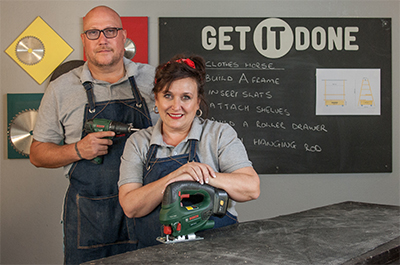 For exciting projects, step-by-step instructions and helpful tips, catch Get it Done by BOSCH, in partnership with EUREKA, Tuesdays at 19:30 on The Home Channel.

Repeats: Wednesdays @ 22:00 | Thursdays @ 11:30 |
Saturdays @ 17:00 & 00:00 | Sundays 12:00 & 21:00