Do you want to become an Eureka stockist?
Eureka covers the whole business cycle from stock procurement to packing and manufacturing to selling and marketing and distribution.
We help you get the perfect stock balance without over stocking or understocking your shelves. We are experts on maximizing profit per square meter and we constantly measure all key performance areas.
Our colour coded stands
Eureka have a one stop fastener range to satisfy any DIY'er or contracter needs. The stands are categorized by colour and clearly named to assist the consumer to get what they want when they want it in quantities they need!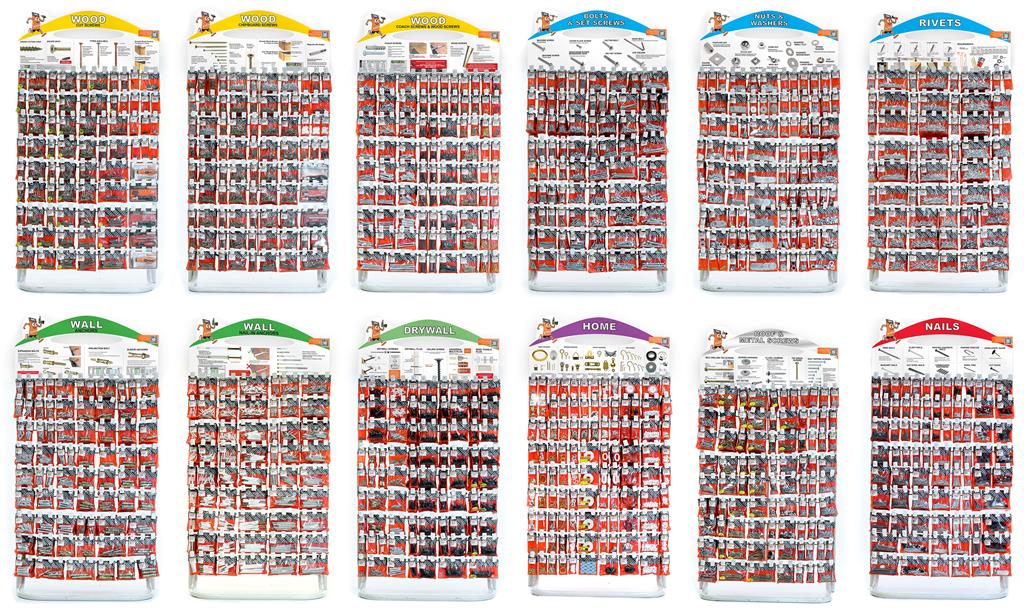 Stand headerboards
Header boards are supplied with each stand.
Show what products can be found on the stand.
Gives information on special features, how to use the products and what other products can be used with it.
Our packaging
Eureka supply the following types of reusable packaging to the general public to customize the end users experience. Buy what you need in the quantity you need.

Our range of product stands consist of a wide variety fixers and fasteners prepacked in small convenient packets and Handy Packs to satisfy any DIY'ers needs.
Eureka DIY also caters for the contractor with Tradepacks and Bulkpacks supplying the customer with bigger quantities at better prices.
Our newest addition to the Eureka package family is the HANDY PACK. We identified the following advantages:

Caters for a new segment
Increased sales
Ideal quantities for specific products

Eureka is going green with the new Handy Packs, Trade Packs and Bulk Packs that is proudly South African manufactured in-house from (P.E.T). These packages are evironmental friendly, reusable, stackable, modular and contribute to less polution in the long run.
Eureka Business Concept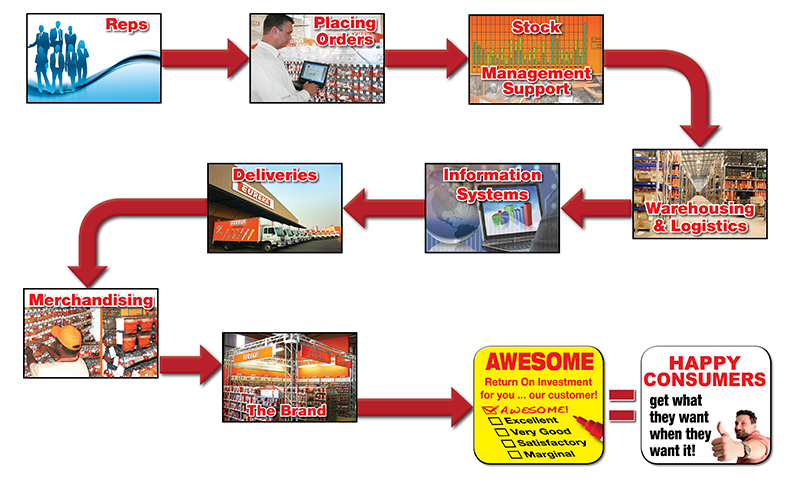 Reps:
Our enthusiastic and dedicated sales team will give you their best and professional service. We invest in regular training for our people in order to add real value to your business.
Orders:
We assist in placing the order with our Sales Support System while physically taking stock. We keep 24 months sales history to make sure we spot trends and order according to sales rates. We keep your shelves neat and tidy.
Stock Management support:
We help you get the perfect stock balance without over stocking or understocking your shelves. We are experts on maximising profit per square meter and we constantly measure all key performance areas.
Warehousing & Logistics:
We proudly run a four year average of 97% fill rate on all orders placed. You get what you order. No back orders. We have 20 years of experience and knowledge of stock and sales forecasting, stock integrity and day stock cover. We warehouse six months' stock.
Information Systems:
Our in-house IT team designed a seamless integrated system. We host all our servers in our data center using modern operating systems and virtualization technologies. From the moment your order is approved it follows a streamlined workflow that includes barcode-based picking and statistical inspection methods. We have EDI relationships with key groups. We have electronic invoicing and statement services.
Deliveries:
We have our own fleet of trucks and deliver nationwide. We have all the latest route & vehicle scheduling tools in place ensuring you get your stock in time and in perfect condition. Our drivers are well trained and equipped and make the check-in fast and hassle free.
Merchandising:
Is done by our drivers who deliver your stock and also double up as merchandisers. Stock is sent on mini-stands making check-in fast and merchandising a breeze. We save you HOURS of labour so that you can focus on selling.
The Brand:
Eureka has built a formidable brand image and we have a strong presence in Southern Africa. We advertise on TV, radio and niche magazines. Consumers insist on Eureka and they trust the brand.
Groups stocking Eureka products
Burmeisters
Game
House of paint
Jabula Hardware
Jack's Paint
K. CARRIM BUILDERS HARDWARE
Laduma Hardware
Massbuild
Megabuild
NTK



NWK Beperk
Obaro
OVK
P & L Hardware
Pennypinchers
President Hyper
S I Hardware
SA Timber
Senwes
Spar



Steel & Build City
Steel Express
SteinHoff
Suidwes Landbou
Timber City
TWK Agri
Universal Paints
VRYSTAAT KO-OP
WOERMANN BROCK & CO
BuyBulk (online hardware shop)
Newsletters