Welcome to Eureka DIY Solutions
 If you're a DIY enthusiast, contractor, an existing stockist, or a potential new stockist looking for tips and information about our products and our company, you've come to the right place.
Eureka is one of Southern Africa's largest suppliers of pre-packed fasteners and fixers, security products, and general DIY items. We have 2500+ products aimed at contractors, DIY'ers, and hobbyists.
We have 500+ employees and we fulfill core business processes in-house; from IT to Distribution and Human Resources. We manufacture some products in-house and will in the future explore more opportunities when local manufacturing makes good business sense.
We deliver to ±3000 stores across South Africa with our fleet of trucks.
The new Eureka DIY concept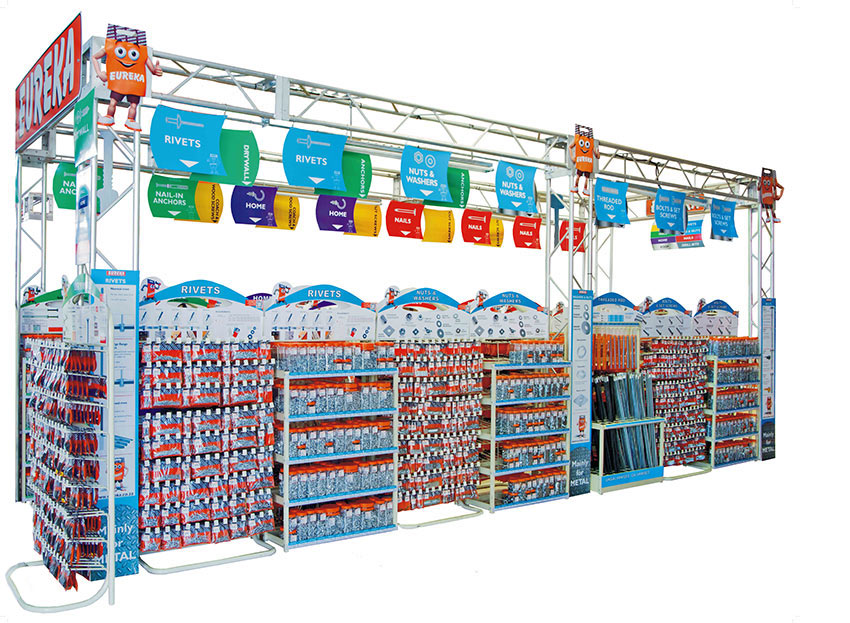 WOOD WALL HOME RIVETS METAL NAILS ROOF
The Eureka colour concept categorises the fasteners and anchors into easily identifiable groups. Looking for a screw to fasten wood to wood? Simply look for the Yellow locator and header boards at the hardware store and you'll quickly and easily find the correct product for the job.
Need to hang something onto a wall? In this case, Green is the colour where you'll find everything from Nail-In anchors to Wall Plugs and even Expansion bolts.
Pairing Eureka Fasteners with Eureka Drill Bits
Informative articles and DIY projects
Our ever growing collection of informative articles provides you with everything you need to know about our wide range of screws, nails, rivets, nuts and bolts, and even drill bits.
If you're looking for ideas for your next DIY project, then head over to our DIY Projects section where you'll find projects from fellow Eureka fans, as well as ones done by ourselves.
Product range and Fastener Finder
Eureka DIY Solutions have over 2500+ pre-packed products and is represented in over 90% of hardware stores in Southern Africa, translating to over 3 000 retailers that we've helped to greatly increase sales and profit per m2 on fasteners.
Finding the right fastener for the job can drive one nuts! So, if you want to hit the nail on the head with your future projects, be sure to use our Fastener Finder to make your DIY life easier.